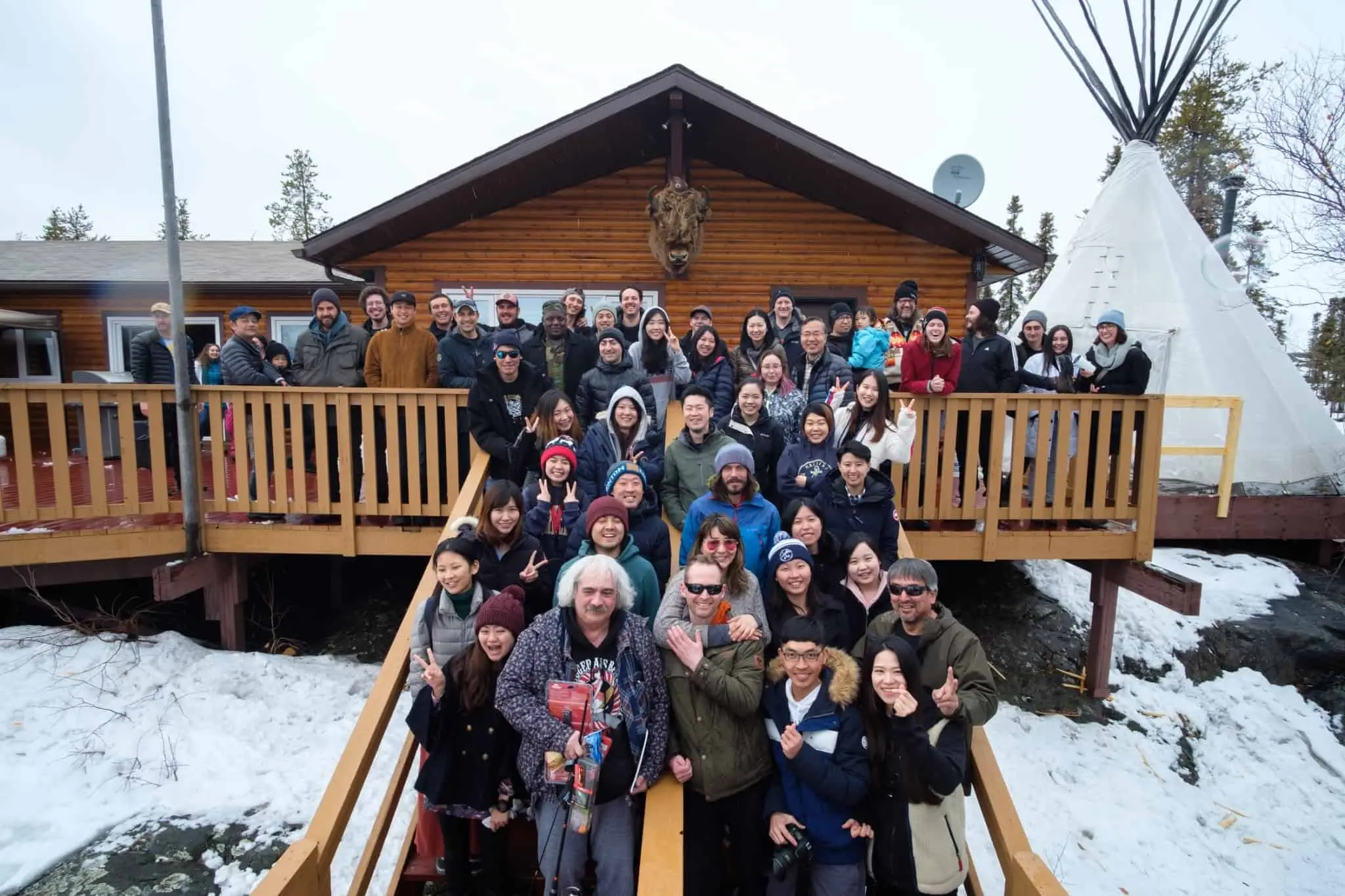 Our Story
An Aurora Village under the northern sky
Family and Tradition
Since opening in November 2000, we have grown to become Yellowknife's premier aurora-viewing destination. Aurora Village is entirely Aboriginal-owned by our family. We are formerly from Fort Resolution – the oldest trading settlement in the territories and home to mostly Dene and Metis people – our family lived both a traditional and modern way of life, fishing, trapping and hunting.
We have called Yellowknife home for many years and it is our mission to share the Northwest territories Aboriginal heritage, culture and traditions with others through Aurora Village. You can rest assured that safety, experience and knowledge are the backbone of everything we do. Let us take care of you, so you can enjoy the journey of a lifetime and experience the Northwest Territories.
Mahsi cho and thank you!
What we offer…
We offer world-class aurora-viewing and outdoor recreation paired with a commitment to top-notch customer service that has made us the industry leader. Aurora Viewing is the main focus and our nightly tours enjoy the warm glow of our teepee village.
The warm glow of our Teepee Village under the dancing Aurora…
The Village
The Village is a gathering of Teepees and hilltop viewpoints surrounding a pristine private lake – we built a magical place to experience north and the best light show on earth.
We do not offer accommodation at Aurora Village itself but there is a reason we call it a village. We have recreated a traditional village environment where people can come together to enjoy the surroundings. With 21 white teepees dotting the perimeter of a private lake, every visitor has a place to call "home," complete with a warm wood stove and choice of hot drinks.
And while northern lights and cold nights go together (it's part of what makes our environment spectacular), you don't have to be uncomfortable! We rent all the winter clothing you need and our facilities including heated seats* and washrooms make for an amazing experience.
World-class Facilities
Aurora Village is the only place in the world offering custom-made, heated outdoor viewing seats that swivel 360 degrees, so you can catch every angle of the aurora borealis. We consulted Aboriginal elders to develop a unique design resembling traditional sleighs, which are guaranteed to keep you cozy and covered.
With five viewing hills located throughout our expansive wilderness property, you can quietly absorb the unobstructed wondrous night sky in seclusion or share the experience with a group.
The choice is yours.
Comfort and service
Our facilities provide maximum comfort in an extremely cold environment – even our outdoor men's and women's washrooms are heated. The Village is a spacious and comfortable place with lots of un-obstructed viewing areas.
We serve local NWT beer, Maple Whisky, Icewine and more in the Aurora Village bar – or enjoy fresh a la carte meals are prepared in-house upon request. Northern comfort food with a local twist.
Regardless of how many guests we have, you can still enjoy peace and solitude throughout our grounds. You can find a secluded hilltop, sit under a spruce or pine tree, settle into a folding chair by Aurora Lake or a heated seat on Muskox or Caribou Hills – and prepare to enjoy one of the most spectacular shows on earth.
Our Teepees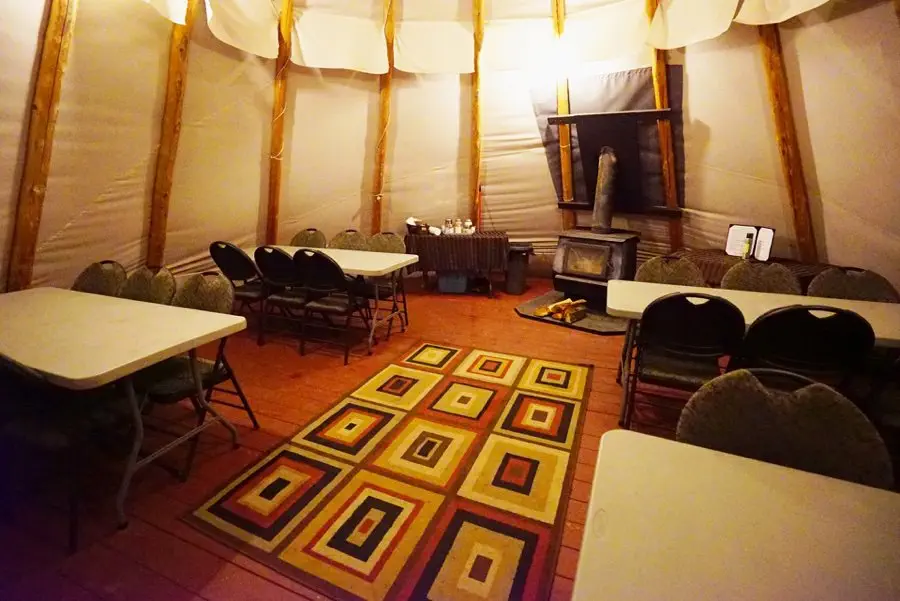 Upon arrival at Aurora Village, the glowing teepees make a stunning first impression. The traditional Aboriginal shelters come in a variety of sizes. Stocked with hot beverages, tables and chairs, the teepee offers you a warm place to rest. It's also where you can ask questions of your tour guide who keeps the fire stoked throughout the night. Meet other travelers from around the world who share your fascination with the Aurora and make some new friends! If you're looking for a more private experience, we have private teepees for a range of group sizes.
The Dining hall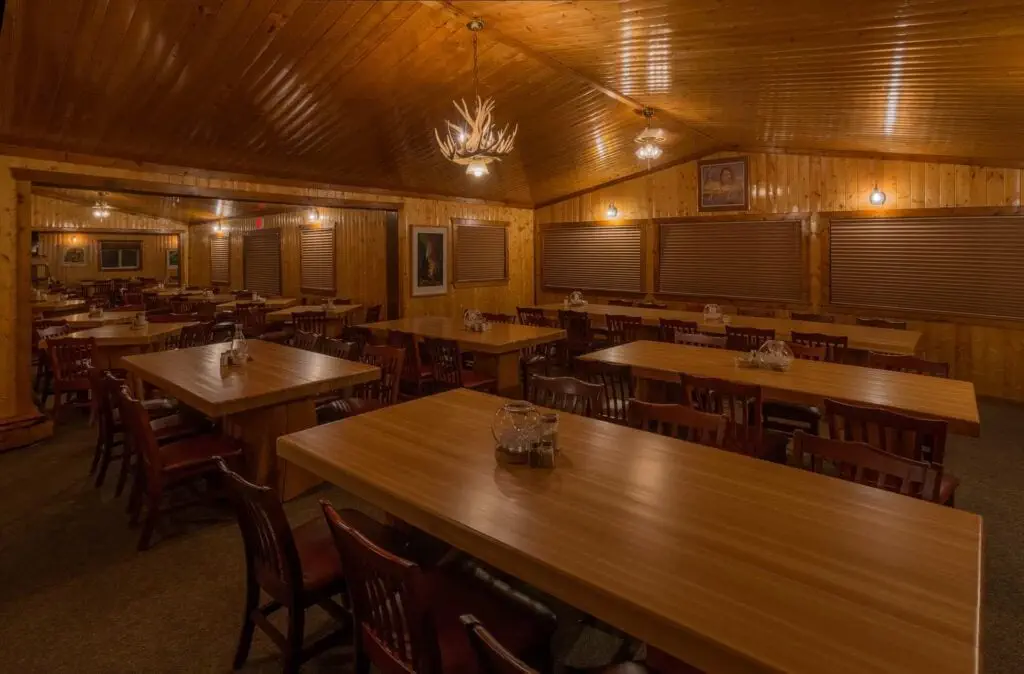 Visitors to Aurora Village can book a delicious Aurora Dinner at our newly renovated dining hall with their tour. Enjoy our chef's northern fare and a wide selection of Canadian and imported wines, spirits and beer. There is also a late-night menu for hungry aurora viewers – everything from fresh whitefish to bison stew with our traditional bread known as bannock – so you can warm up and grab a bite before the end of your tour. Filled with warm, hand-made log furniture the dining hall is open to tours only and not the general public. (* will open only some days a week in 2021-2022)
Heated Seating
Aurora Village is the only place in the world offering custom-made, heated outdoor viewing seats that swivel 360 degrees, so you can catch every angle. We consulted Aboriginal elders to develop a unique design resembling traditional sleighs, which are guaranteed to keep you cosy and covered. Seats must be booked upon arrival if available or booked as part of a three-night package. Click here to learn more about the packages we offer.
Photography and Gift Shop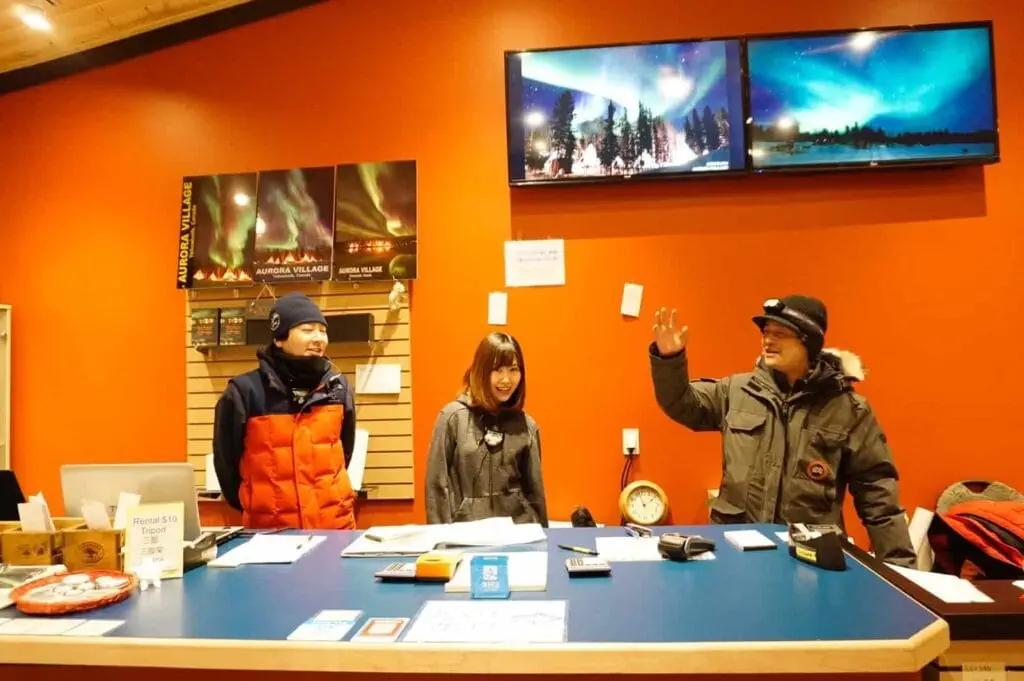 Our professional photographers on site take striking photos every night and offer a service to take a photo of you beneath the dancing lights. They are located within the gift shop which is also the place to rent tripods and get some photo tips from our knowledgeable staff to help you get great photos on your own. We also have Aboriginal crafts, jewelry, clothing and bags, as well as delicious maple syrup and other Canadian goodies.
Guides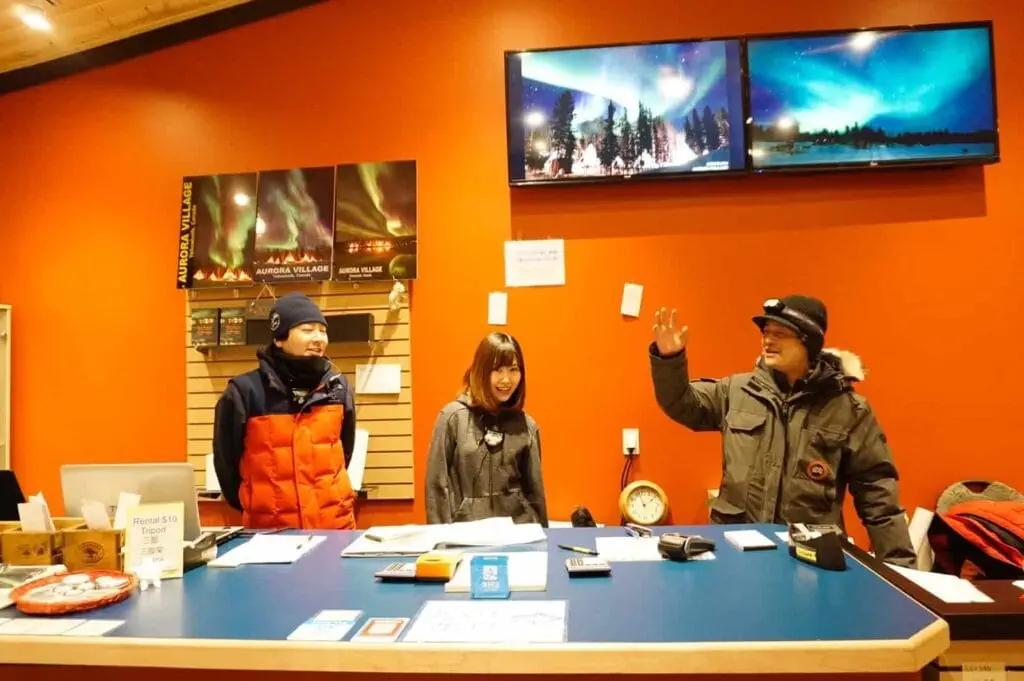 Our incredible team of Guides are a special part of Aurora Village. We have guides available to our guests in English, Japanese, Mandarin, Cantonese and Korean. As well as staff offering help in many other languages, French, Spanish and even Aussie and Kiwi…
Camp Guides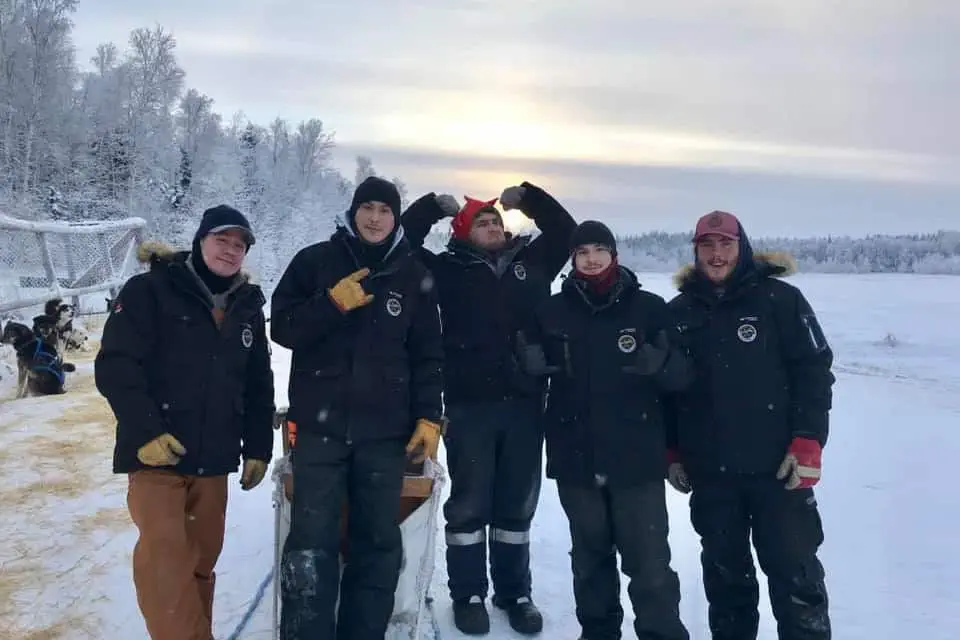 With three generations of the Morin Family at the village as well as a crew of family and friends that make up our local staff. We will share our culture and the way of life in the Northwest Territories and help you enjoy activities at Aurora Village from Dog Sledding and Ice Fishing to Hiking and Snowshoeing.
Our Team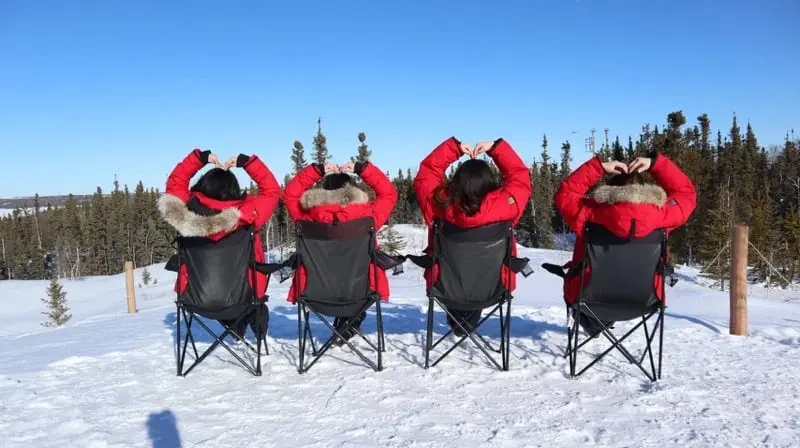 Work with us…
We are always looking for fun and motivated people to join our team get in contact now!